Introduction of titanium dioxide
author: ATS
2022-11-30
Introduction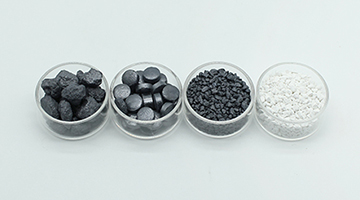 Titanium dioxide, molecular formula is TiO2, is a kind of high refractive index material, suitable for electron gun evaporation plating. After coating, the film is dense, firm and resistant to chemical corrosion.
Classification of type
Titanium dioxide coating material has two kinds of color: white and black, which is Determined by different processing conditions. In coating applications, black Titanium Dioxide evaporates more easily than white, but it requires oxygenation in the process because Titanium Dioxide breaks down and loses oxygen when heated and vaporized in vacuum, forming a suboxide film of high absorption Titanium.
Introduction of specification
Common specifications of Titanium Dioxide are sintered granules and sintered tablets.
Common size of sintered granules :1-3mm 3-5mm
Common size of sintered tablet  : 8*5mm 9*5mm 10*5mm
Specific size can be customized according to customers' requirements.
Introduction of product application
Titanium Dioxide is often used for anti-reflection film, spectroscopic film, cold light film, filter, high reflection film, eyeglass film, thermal mirror and so on.
Film coated by Titanium Dioxide has high dielectric constant and can be used to make film capacitors for hybrid integrated circuits.
About ATS
In 2005, ATS has begun the production of Titanium Dioxide coating material, becoming one of the earliest manufacturers of Titanium Dioxide in China. At the same time, ATS began the production of other Titanium Oxide series products, such as: Titanium Pentoxide, Titanium Dioxide, Titanium Oxide and so on.The purity of Titanium Dioxide products is up to 99.99%, with good quality assurance, and can be customized for a variety of sizes to meet the different needs of different customers for Titanium Dioxide.
ATS is a professional optical coating material production enterprises, qualified ISO9001 and SGS certifications and has professional production, research and development, quality management, storage and sales service teams. Products of ATS have been sold to domestic and overseas markets. Welcome you to contact and cooperate with us!