ZnS Sinter Spec Summary
author: ATS
2023-03-16
Introduction
ATS has more than 30 years of experience in the production of zinc sulfide film materials with mature process and stable products. Our zinc sulfide sintered materials are mainly obtained through ZnS powder pressing and sintering process, color white to light yellow, 99.99% and other purity specifications, could meet different technique needs of customers.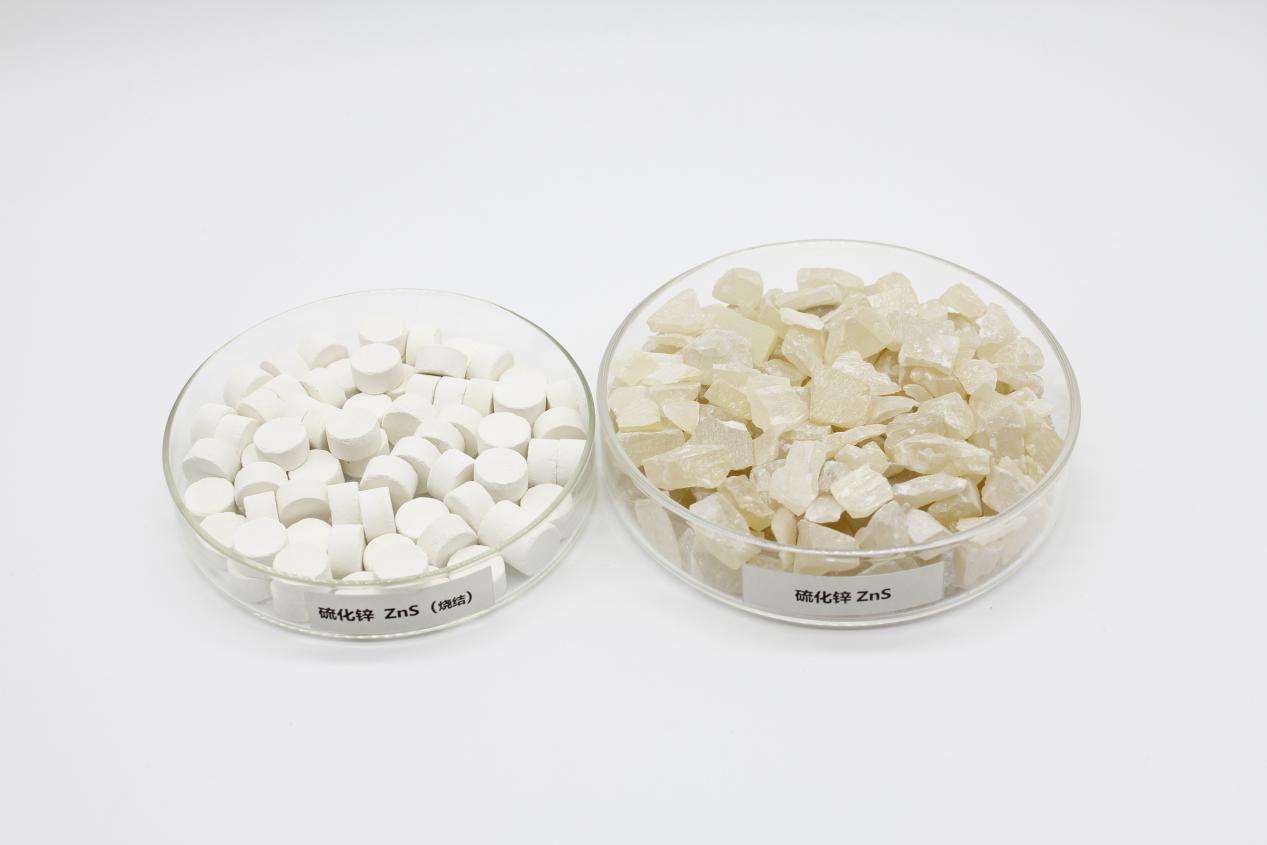 Contrast Picture for ZnS Sinter and ZnS Crystals
Clssifications of Types
- ZnS sintered materials in current market could be divided into ZnS sintered cuboid pieces, ZnS sintered tablets and ZnS crystal granules as per different sizes and specs.
-As per the color, they could be divided into white material (white to yellowish) and green material (white to greenish).
- According to the type of raw materials, they can be divided into domestic materials and imported materials.
Introduction for specs
-Common size of ZnS sintered tablet: 10*6mm, 20*15mm, 30*17mm
-Common size of ZnS sintered cuboid piece: 80*45*30, or 80*45*(30~50)mm, 80*60*55mm
-Common Size of ZnS sintered granule: 1-3mm, 3-12mm
Specific size of the above products can be customized according to customer requirements
Products Application
Main application of ZnS sintered materials are plating high-end decorative film ,laser anti-counterfeit film and reflective material.
Our ZnS sintered cuboid pieces have high density, tight internal structure and not easy to be broken, easy to store and reduce loss.
Sintered Tablets have regular shapes regular with small tolerance, making materials more evenly plated on the substrate in the coating process ,so that the coating effect is better.
Sintered ZnS materials have better utilization rate, can be used to plate higher- end decorative coating products, easy to use, so cost performance is higher than zinc sulfide powder.
Decorative Films
Anti-counterfeiting films
About ATS
ATS started the production of ZnS products in 1986;we have more than 30 years experience so far. From the original zinc sulfide powder, sintered tablet then to high purity zinc sulfide crystal, ATS Optics continues to develop new specifications, large output, complete variety, widely used in decorative optics and related fields.
ATS is a professional optical coating material manufacturer, passed ISO9001 and SGS certification, has a professional team for production, development, quality management, storage and sales service ,products sold to domestic and overseas markets.Welcome you to contact us.