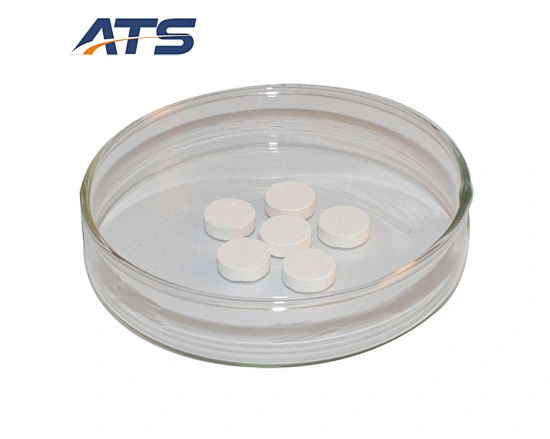 Ta2O5 white material 99.99% tantalum pentoxide ta2o5 price
$408.00 - $583.00
/ kilogram
  CAS 1314-61-0 Ta2O5 granule 1-3mm 3-5mm purity 99.99%

Product Attributes

Product Name

Ta2O5 sinter granules

CAS No.

1314-610-0

Applications

Filter; HR coating; Insulating coating

Specification Details

Size Range: 1.Sinter granule:1-3mm;3-5mm,

upon demand

Color: grey

Purity: 99.99%;

Density

8.7g/cm3

Properties

Refractive Index at 550nm:2.16

Transparency Range(μm):0.35~9

Melting Point: 1800(°C):

Evaporation Source: RE,RS

Packing details

1 KG/Bag; 1KG/Can or 2KG/Can; 20KG/ Carton

Storage

Avoid exposure to sunlight and acid; Keep dry

MOQ

Unlimited

Payment

T/T, L/C, D/A, D/P, Western Union

 

  

Since 1986

Specializing in evaporation materials

Leader manufacturer of evaporation materials in China.

Qualified the world certificates such as ISO9001:2008 and SGS, also Purity and Safe ..

..Transportation of products certificated in China authoritative organizations.

Comprehensive in R&D, manufacturing, and sales on optical vacuum materials.

Export to more than 15 countries in Europe, Southeast Asia, South America and areas, etc.

TEAM SHOW

Professional and efficient We own a strong teamwork of professional R&D team,

manufacturing team, sales team and after-sales service team. Provide you 12 hours fastest service.

  

 MAIN PRODUCTS

Qualified ISO9001:2008 and SGS; Purity Test & Safe Transportation.

Main evaporation materials products: ZnS, Ti oxides, Si oxides, ZnSe, ZrO2, MgF2, Ta2O5,

Al2O3, ITO, Cr, etc; as well as mixture materials

3 main types of principal products:Evaporation materials, ZnSe lens substrate (No-coated)

and Evaporation boat Your customization demand can also be satisfied by our R&D team.

  

- FAQ -

Q1: Can I have a sample for testing?

A: Yes! Test can intuitively show the application result. Actually the sample is free;

     you just need to pay for the express cost.

Q2: Can I use our own packing?

A: Yes! OEM is available for us. You can send your packing material to our factory

     or we can purchase the designated packing for you.

     You may pay for some extra cost if caused.

Q3: Do you have inspection procedures for evaporation materials?

A: 100% self-inspection before packing

Q4: What's my consideration when I choose one kind of evaporation material?

A: The application and the application effect you want.

Q5: What's my consideration when I choose an evaporation material supplier?

A: Professional and experienced manufacturer, stable quality control, efficient service.

Q6: What are the benefits of being an ATS distributor?

A: Broad market sales; ample margins for your sales.

Q7: How can I become a distributor of ATS?

A: Contact us immediately for further details by sending us an inquiry.

Q8: Can I have a visit to your factory before the order?

A: Sure, welcome to visit our factory.

    Here is address information of our factory: Baimi Industrial Zone in Jiangyan District,

    Taizhou City, Jiangsu Province, China.

    It is about 200 km from Shanghai Hongqiao Airport with convenient transportation.

    We can pick you up in the airport. Hotel booking service is available.