CIOE China Optical Expo will be held on September 16-18 at Shenzhen International Convention and Exhibition Center (Baoan New Hall), only 5 days left!
New exhibition period, New booth No.
Exhibition area of ATS: precision optics Exhibition & lens and camera model exhibition.
Exhibition hall: Shenzhen World Exhibition& Convention Center (Hall 3).
Booth No. : 3B26.
Welcome to visit!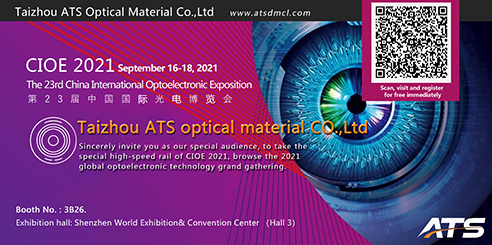 Since the production of zinc sulfide in 1986, ATS Optical Material has been focusing on the field of optical vacuum coating materials. After many years of production and sales experience, our products have enjoyed a high reputation in the domestic and foreign markets; the professional and diligent team is the basis of ATS Optics Development. Through the hard work of our employees, the quality and output of our products have always been able to satisfy customers. Over the years, the tenet of "Selling with Honesty" has been reflected in every transaction between our company and customers, and customers have always been satisfied with our efforts.
Then, ATS Optical Material will bring the latest optical material product information to share with new and old customers at home and abroad, so stay tuned.
We sincerely invite you, as our specially invited audience, to take the CIOE 2021 China Optical Expo dedicated high-speed rail and browse the 2021 global optoelectronic technology event together.